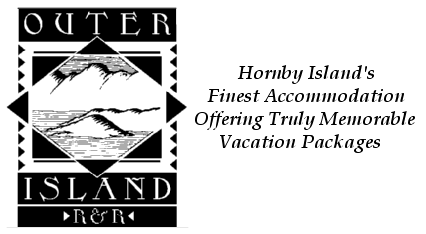 Outer Island, it's a simple life we lead here. The deer roam the orchard and fields, and the panoramic views of the beaches, ocean and mountains are never taken for granted. Discover the solitude and peaceful existence of this land as a retreat from today's hectic urban world.
The rustic charm of our ranch house, set on 13 acres of farmland, provides a tranquil atmosphere for our guests.

You are invited to relax in the living room, read a book in the loft, chat with new and old friends on the back porch, lounge by our heated pool, or enjoy a game of tennis.
We offer three cozy guest rooms each decorated in various themes with private or shared baths. We also offer a private cottage - a perfect work retreat or simply a quiet place to ponder.