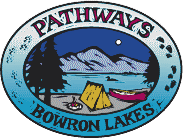 Pathways Tours of the Bowron Lakes

Bowron Lake Park, a world-renowned wildlife sanctuary, is a chain of lakes and interconnecting rivers which form an outstanding canoe circuit.
Abundant wildlife and rich flora, in a setting of azure lakes and high, glaciated peaks, provide an inspirational setting for the canoeist, photographer and nature lover. Outside Magazine ranks the Bowron Lakes as "one of the top 10 canoe trips in the world." Enjoy the fun, camaraderie and safety of traveling in a group led by Bowron Lakes' most experienced guides. Canoe instruction is also provided.