Paddle over the largest Sea Stars in the world. Get up and close with fascinating marine wildlife. Swim and snorkel in unbelievably warm waters. Join the guides of Powell River Sea Kayak Ltd. on a 4 or 5 day all-inclusive tour of BC's largest marine park: Desolation Sound.
Powell River Sea Kayak Ltd. is located at Desolation Sound Marine Park. This historical location on Okeover Inlet, once home to the Cougar Lady, is the home of owners Adam and Laurie Vallance. Years of living here and paddling the waters of Desolation Sound and the surrounding area have provided for very detailed knowledge of this area. This is why Powell River Sea Kayak specializes in guided kayak tours into Desolation Sound.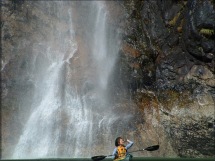 Clients will receive not only the highest quality food and equipment, but also an experience that is unsurpassed. Experiences will come in the form of kayak routes which maximize marine wildlife encounters, campsites which not only accentuate the majestic scenery but are idyllic and unknown, and the sharing of the local stories which have helped shape this fascinating area.






Powell River Sea Kayak Ltd. is a fully permitted sea kayak company with the province of British Columbia. This allows Powell River Sea Kayak Ltd. to operate legally both inside Desolation Sound Marine Park and outside of the park as well. As a company that specializes in Desolation Sound, Powell River Sea Kayak Ltd. is actively involved in parks planning as well as integrated coastal planning of the waters outside of the marine park.







We welcome you to check out our website at www.bcseakayak.com. Here you will find information on our guided trips, maps of the area, local attractions and even information on the Cougar Lady of Okeover Inlet. We can also be reached toll free at 1-866-617-4444 or by email at info@bcseakayak.com.