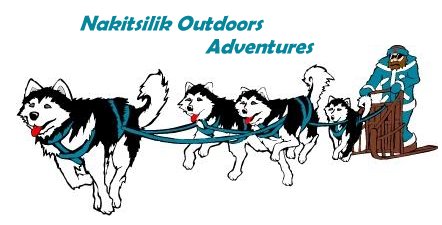 Harness the power...Ride the spirit

Nakitsilik Outdoors Adventures is located in Bridge Lake, B.C. in British Columbia's beautiful Cariboo Country.

Take a moment, close your eyes, and imagine that there is no one else around you. No city, no cars, no noise. Imagine that it is a clear & sunny day, and the pristine white of the newly fallen snow is almost blinding in its' brilliance. Now picture yourself on the back of a dog sled, being pulled by a team of purebred Siberian Huskies.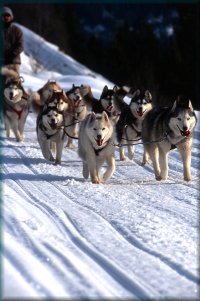 Imagine the power as you have harnessed your team, and feel the spirit of these incredible animals as they race across frozen ground as their ancestors once did; the peace of the morning broken only by the whisper of sled runners as they pass over the snow.
On our one day tour, we will spend a fun filled day teaching you the basics required to drive a team of dogs. We offer you a manageable sized team of dogs, a safe trail environment, and experienced guides. Because smaller teams are used a weight restriction is in place. We'll travel on a 20 mile course along the Trans Canada Trail & backcountry trails. Snacks, beverages and lunch are included.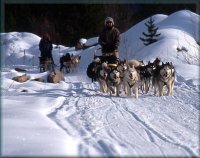 Winter Getaway Packages are our specialty! Stay in our comfortable lodge or our rustic prospectors tent, learn to mush your own team, enjoy two days of dog sledding, then sit back, relax and enjoy our home cooked meals, campfire, satellite TV & movies. The package includes two nights accommodations, and all meals & snacks on the trail.

We also offer a multi-day winter camping package. You'll experience the true splendor of dog sledding. This package is for the advanced outdoors person, as we go through the beautiful back country trails, set up a camp for lunch, and return to our base for a bonfire and a hearty home cooked meal. These trips are only available during the week.
At Nakitsilik Outdoor Adventures, we believe in the romance & adventure of dog sledding. The Siberian Huskies at Nakitsilik are a cheeky lot, full of fun & mischief and they love to run.