Imagine.... stepping out of reality, into adventure. Your adventure!
Based in the historic Rocky Mountain town of Revelstoke, British Columbia, we offer exclusive helicopter vacations for travelers who want to experience the mountains at their very best - a vast, pristine wilderness.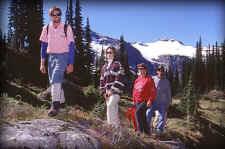 Heli Canada Adventures offers you vacations with exclusive access to remote, stunning mountain vistas that few people ever share. Come with us, and turn imagination into adventure.

From afternoon picnics in sun-washed alpine meadows to multi-day heli hiking, heli fly fishing, heli rock climbing, heli backpacking or heli mountaineering, we are the discerning traveler's first choice for flexibility, quality and experience.



Heli Canada Adventures specializes in small group heli adventure vacation travel: no more than eight guests travel with each guide.

Our fully qualified travel and guiding experts take care of every detail, ensuring your comfort and enjoyment while sharing their love for the outstanding natural beauty of Canada's Rockies.
If you're already thinking about a winter adventure, we can help: ski touring and heli snowshoeing are just two of the winter adventures we offer, all of which can also be customized to suit corporate adventures, including executive teambuilding and corporate incentive programs.

This is the world of Heli Canada Adventures. We can make it yours.