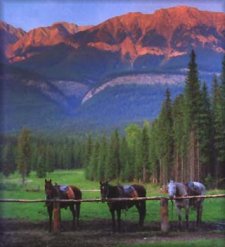 BEAVERFOOT
LODGE

The Ultimate
Western Experience
Beaverfoot Lodge is situated in a wilderness valley adjacent to Yoho National Park. Beaverfoot is family owned, operated and offers an unique combination of rustic wilderness and physical comfort.



The Lodge offers 11 separate bedrooms with a shared bathroom facility, and a large lounge with a central fireplace for cozy evenings. You'll enjoy three delicious meals a day in our dining room. Snacks of fruit or fresh baked goods are available for munching at any time.







Relax on our front porch and enjoy the spectacular scenery and wildlife. Ranch activities include: trail riding, hiking, canoeing, fishing, horseshoes, hayrides, and evening campfires. You can take a refreshing dip in the icy mountain pond, or relax in the sauna too.






Trail riding is the prime summer activity at Beaverfoot Lodge. The terrain varies from high alpine meadows and breathtaking glacial fields, to quiet trails through thick woods by the Beaverfoot River to a spectacular viewpoint facing Wapta Falls. We also offer a 3-day pack trip through the back country to the top of Helmet Falls.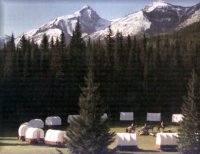 Our Covered Wagon Campground has twenty wagons which sleep 2 people each. These stationary wagons are circled around a central campfire and serve as bedrooms next to toilet and shower facilities. Meals are available on request. It's a perfect place for a wedding, family reunion or club meeting. Open May 15 to Labor Day.

In the fall, we offer big game hunting. In winter, there's snowmobiling and xcountry skiing trails, and snowshoeing.