Join us for the adventure of a lifetime! Ocean Explorations offers world class whale watching from beautiful Victoria, British Columbia, Canada. Ocean Explorations feature the large safe Zodiacs, professional guide/naturalists and a highly successful whale search network.


Departing from Victoria's Inner Harbour, our expeditions explore coastal waters in search of killer whales and other marine wildlife. This cool clear nutrient-rich sea supports an astonishing animal ecosystem. In addition to killer whales, here you will also find Gray Whales, Humpback Whales, Minke Whales, Dolphins, Porpoises, and Harbour Seals, Elephant Seals, Sea lions, Eagles, sea birds and many other fascinating aquatic creatures.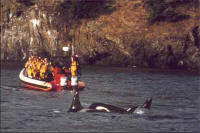 Our guides are exceptional mariners and excellent
naturalists. Your safety and comfort is our top priority. Our boats are purpose built for the demands of whale watching, they are Coast Guard inspected annually and are always maintained in top condition.


Ocean Explorations is proud to practice responsible wildlife viewing.