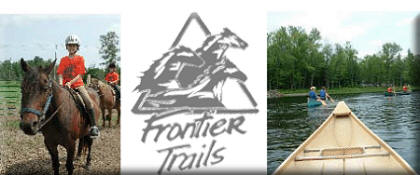 Frontier Trails Summer Camp is located about 90 minutes west of Ottawa (The Corel Center). If you are looking for an Ottawa area summer camp with variety, you have found it! Horseback riding, music, drama, canoeing, kayaking, crafts, archery, trampoline, swimming, wagon rides, mountain biking, Red Cross swimming lesson, peddle boats, fishing, snorkeling, camp outs, camp fires, sing songs and more....

There are a variety of summer camp programs to choose from. 3 Horseback riding programs for the horse enthusiast or for the beginner, a Waterfront program, Music & Drama camp, and a Variety program which is a mix of all the summer camp activities.


Set on the shores of the Bonnechere River, Frontier Trails offers 100 acres of forests and fields, miles of groomed riding and hiking trails, and 3500' of natural unspoiled shoreline including a clean sandy beach. The staff is specially chosen and caring, the 22 horses, pets and equipment are safe and well cared for, and the home-cooked meals are fresh and nutritious. Home base for camp operations and activities is a refurbished country barn, where campers and counselors sleep in comfortable, well-ventilated boys and girls dorms. This main camp also includes washrooms, showers, dining room, kitchen and a sitting/recreation room

Children can experience the time of their lives at Frontier Trails - call today to plan a unique and rejuvenating vacation for all!