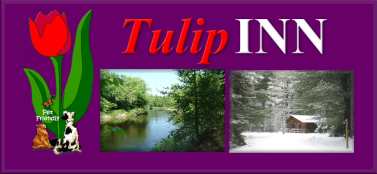 The Tulip Inn is nestled in 11 acres of woodland on the Big East River, adjacent to Arrowhead Provincial Park, in beautiful Huntsville, Ontario. We offer a charming blend of modern convenience and country hospitality in a welcoming, natural setting.

We provide quiet and comfortable rooms and a cottage. A few of our rooms are equipped with kitchenettes and our private, secluded cottage sleeps up to seven people. Our rooms have been upgraded and renovated in 2004. A continental breakfast is available upon request.
With wilderness trails, a private sandy riverside beach, it's easy to make the most of your valuable vacation time. Rent a canoe and explore the Big East River and Arrowhead Provincial Park. Take a wilderness trail hike on 11 acres of beautiful woodland. There's golfing, bowling, and horseback riding nearby too.
In winter, cross-country ski our wilderness trails, take the family on a dog-sledding adventure, snowmobile on nearby trails, snow-tube at Rock Ride or downhill ski / snowboard at Hidden Valley Ski Area.