Horwood Lake Lodge is on beautiful Horwood Lake near Timmins, Ontario. You will be overwhelmed by the lake's picturesque shores. Horwood Lake has long been known for its trophy fishing with an abundance of walleye, northern pike, perch and whitefish.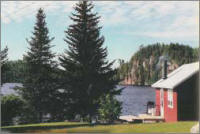 We offer seven direct on the water cabins and one adjacent to the water cabin all overlooking beautiful Horwood Lake. The cabins range from one room with a queen sized bed to larger cabins accommodating 10 beds. Each offers fully equipped kitchens, 3 piece bathroom, wood burning stove, water cooler, towels and linens.




At Horwood Lake Lodge, we're passionate about our tradition of great food. We delight in amazing our guests with 5 star dining experience with a view overlooking beautiful Horwood Lake.

Other lodge amenities include: lounge area, gift shop, dockside cabanas with BBQ area, sauna, screened sitting area overlooking the lake, horseshoe pits, children's sandy playground with trampoline and climbing fort, nightly bonfires, and free use of mountain bikes.


Our tackle shop offers free fish cleaning, packaging & freezer service. Fishing boats are included in most of our packages. Enjoy our weekly fishing tournament with windup BBQ and prizes. We also offer ATV fishing adventures and trail rides.