Blue Heron Rafting offers fun family rafting trips down the Grand River in central western Ontario. We do floats in Brantford, Paris to Brantford, Glen Morris to Paris, and Cambridge to Glen Morris.

You'll float gently down the Grand River, taking in the view from the water - a truly different perspective of this historic waterway.

Soak up some sunshine , watch osprey dive for fish, beavers swimming on the shoreline, and see great blue herons swoop gracefully through the air. You will see fish jumping and huge snapping turtles sleeping in the sun too.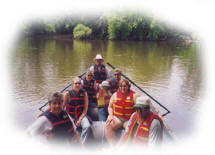 Bring a lunch and we will carry it for you in our large coolers and stop for a picnic along the way, or we can arrange a barbeque for you after the trip.


We can accommodate a maximum of eighty people per trip. Naturalists and local historians can be supplied on request. Comedians can be provided to entertain you during the lunch stop. These are professional comedians that tour with Canada's top comedy chain (must be booked in advance).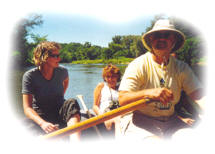 Moonlight floats are also available. Come and enjoy a romantic float in the moonlight. Gourmet snacks provided!


If you're a group looking for an adventure, our Great Brantford-Paris-Brantford Bicycle and Raft Ride is great fun!