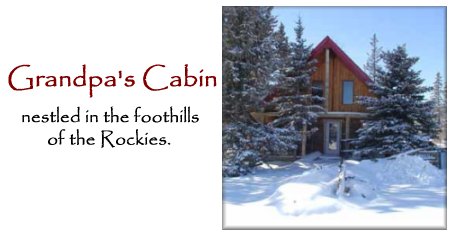 Anchor D Guiding & Outfitting has this beautiful, cozy, two-bedroom log cabin available for rental. It's an authentic log cabin on the Ranch, nestled in the foothills of the Canadian Rockies, just 1 1/2 hours from Calgary.
The cabin features a full kitchen with microwave, television/VCR (movie rental nearby), loft, woodstove, in-floor heating, washer/dryer, linens and towels, and a great view.

The surrounding area offers great photographic opportunities. Whether you're a horse enthusiast or just want to strap on your hiking boots and head up the ridge into Kananaskis country, this is the perfect place for families or a romantic and relaxing getaway.

Guided horseback riding is available onsite. Nearby golfing, mountain biking, cross-country skiing, fishing, hiking, shopping, restaurants.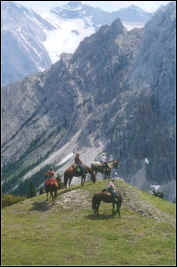 We're within 1 to 2 hours drive from Head-Smashed-In Buffalo Jump, Remington-Alberta Carriage Museum, Calgary Stampede, and other attractions in the area. If you're a cross-country ski enthusiast or enjoy skating, we're only 5 km. from the Sandy McNabb Recreation Area.