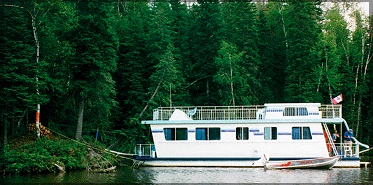 Abitibi River Houseboat Expeditions offers adventure and a new wilderness experience with all the comforts of home. Share the Wilderness and Savour the Silence… Embark on a houseboat expedition into Canadian history and experience a journey to remember!

Explore the rugged Abitibi River System in comfort on a fully equipped 44ft. Suncruiser Three Buoys Houseboat (Sleeps 10). Houseboat features include: children's safety railing, private stateroom, sleeping loft, fully equipped galley kitchen, dinette, BBQ, full bath, heat, ship to shore radio, sundeck, waterslide, and swim grid.

Abitibi River Houseboat Expeditions is located in Flood's Landing on the Frederickhouse River just 21 km north of Cochrane, Ontario.


Enjoy the thrill of hooking a walleye or pike off your very own back deck, hike on wilderness trails, go sightseeing - spot a moose or a bald eagle, hear the call of the loon while birdwatching, park in your own secluded spot for romantic dinners. Absorb the tranquility of life on the river. On your own, you will have the freedom to explore new territory, go where you want, when you want - without deadlines to meet!