You can't beat a houseboat for a relaxing and tranquil vacation. A houseboat cruising the Kawarthas... now that's just heaven.


Lounge on the upper deck basking in the summer sun while you float down the Trent-Severn Waterway or relax in the shade of the forward awning. Spot the blue herons standing sentry along a river of the Kawartha's in Ontario. Houseboating in Ontario the way it was meant to be.



Take your houseboat through the world-famous Peterborough Lift Locks. Glide under the fireworks at the Festival of Lights. You're the Captain and it's your call!


At R&R Houseboat Rentals, our houseboats are fully equipped with everything you need to thoroughly enjoy swimming, sunning, barbequing and entertaining on your floating cottage. Our Sundance houseboats are easy to handle for even novice boaters, and we provide you with an orientation course before you cast off.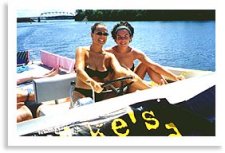 We have three sizes of Houseboats to chose from, accommodating from 2 to 8 people. Each boat is equipped with: fully equipped kitchen with propane stove and fridge, furnace, gas BBQ, spacious carpeted interior, bathroom with shower, double bunks, railed sun decks, swim ladder, lawn chairs, AM/FM cassette radio, and all life jackets and safety equipment.