Winter or Summer, adventure awaits you in the Crowsnest Pass, Alberta, Canada. Nestled at the foot of the Rocky Mountains, 2 1/2 hours south west of Calgary, Alberta and only 100 miles north of the Montana. U.S./Canada border, Mountain Memories Guiding & Rentals Ltd. can provide you with a variety of Adventures, designed especially for you, and... Adventures you won't soon forget.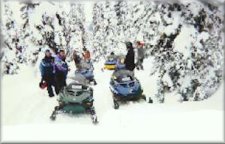 Mountain Memories will offer you a chance to explore the rolling foothills of the Crowsnest Pass area with All Terrain Vehicles (ATV). Experience the spectacular scenery as Spring brings the area to life, or Summer and Fall change the colors of the mountains and foothills. Bring your camera and lots of film to capture images that we know will "take your breath away."


The Rocky Mountains surrounding the Crowsnest Pass offer some of the best snowmobiling in Canada. The diversity of terrain gives a mixture of trails, hills, bowls and mountain riding.
The Crowsnest Pass is surrounded by a vast area of forest and mountain wilderness with hundreds of trails to explore and therefore, we try to provide a special ride for customers and not just a routine ride to the same destination. Tours can also be customized to include time for fishing, hiking, taking pictures, gold panning, etc.

Mountain Memories is a family operated business that, for the past 8 years, has proven to go the "extra mile" for customer satisfaction. The ATV's we use are all fully automatic 4x4's. We keep the group size small taking out four riders at a time. Please note that doubling is not allowed and riders must be over the age of 18 to operate the ATV.