Memquisit Lodge, centered one hour away from both Sudbury and North Bay and 4 hours north of Toronto, provides you with everything Ontario's wilderness has to offer.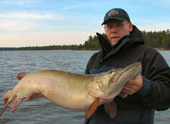 West Bay of Lake Nipissing is renown for it's awesome fisheries; there is no place like it on the entire body of water. Fishing is great and will compete against any other areas on the lake. Sheltered water can be found through the entire 13 miles long bay, which reaches widths of up to two miles with hundreds of islands, weeded bays, creek inflows and rock shoals.
For the angler we have a fleet of 18' cedar strip boats fully equipped with padded swivel seats, fish finders and reliable 20hp motors. We also have guides, bait, tackle and hydrographical maps of the lake. There are a million places to fish minutes from the lodge for walleyes, pike, small mouth bass, large mouth bass, musky and yellow perch; our guest hardly go any farther than 2 to 3 miles away from the lodge. No need to do so there is plenty of fish around.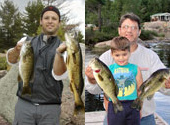 Our cabin layout is unique in the sense that all cabins are well distanced from each other therefore offering unparalleled privacy. Our 12 Housekeeping and 6 American plan cabins range from 1 to 5 bedrooms and are fully equipped. Each has a deck overlooking the natural beauty of the lake, fire pit and private dock. We also have a dining room, lounge with satellite viewing, game room, convenience store and fully equipped fitness center.
If you want a to remember waterfowl hunt then look no further, we can put you in prime shooting areas in one of our many blinds scattered throughout the bay. Our guides will provide you with years of experience. Our complete packages are extremely affordable.
If you want a family getaway then we have what you need, complimentary coordinated children activities. We also have a beautiful sandy beach, fishing from the docks, paddleboats, kayakee and canoes. Exciting attractions such as Science North are only one hour away, historical captained pontoon tours. Walk around our 387½-acre property and its 3½ miles of private shoreline, and then enjoy reiki sessions and relaxing massages.
At Memquisit Lodge we have what it takes to fulfill your vacation requirements and pride ourselves with understanding and meeting your needs.