We offer skippered sailing charters to the Gulf Islands, the Sunshine Coast, Jedediah Island Marine Park, Desolation Sound Marine Park, and Princess Louisa Inlet Maine Park.

We also offer full and half day trips from the City of Nanaimo on Vancouver Island and visiting Newcastle Island Marine Park and the surrounding islands and waters of this incredibly beautiful area.

Takuli III is a comfortable, well equipped vessel and the captain has your safety, comfort and interests in mind. Participation in sailing Takuli III is welcome but not expected. I have had many first time sailors aboard who were pleasantly surprised that sailing was so much fun!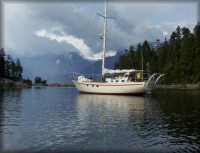 Join Takuli III for a voyage of discovery through the beautiful marine wilderness of coastal British Columbia. Your captain, Bill Plummer, is a licensed captain enjoying his ninth year of chartering Takuli III.
Our trips are a great way to experience the islands, mountains and waterways of the Pacific Northwest. We visit coastal communities and share their arts, crafts and culture. We also view rich ecosystems and diverse wildlife against a backdrop of incredible scenery.

Explore the shoreline at leisure in our kayaks or rowing dinghy, a quiet and relaxing way to discover what's out there! We anchor in quiet bays at night and enjoy healthy, delicious food.