Kid's Birthday Parties at Edmonton Int'l Raceway are great fun!
Our Kid's Birthday Party Package includes:

* Admission for the Birthday Party Kids
* Dinner (Hot Dog, Chips, Soft Drink)
* Racing Theme Birthday Cake
* Happy Birthday Trophy
* Everyone gets a ride in a race car


The Announcer announces the child's name along with the names of his/her birthday buddies. We take a photo of the birthday group with the race car and favourite racer - we enlarge that photo and send that to along with the Racer's autograph.

Cost: $12 each - includes admission. A minimum of 6 party guests is required. Adults attending the birthday party would just pay their regular admission that evening.



Edmonton International Raceway is a ¼ mile paved oval. We are one of western Canada's premier motorsports facilities with an extensive racing program and one of the highest car counts in this region of Canada.

Now in our 13th year, we have always designed our shows for the whole family. Prices are kept low, we have special family rates, and offer a wide range of activities with kids in mind. Some of our kid-oriented activities include Jr. Race Fan draws, Driver autograph sessions, Race Car Rides, Frisbee Toss, and much more. We have also had great success with our Corporate BBQ's, Race Schools and Car Rentals.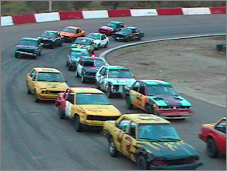 To find us, head south on Hwy 2 and take the Hwy 2A exit just past Leduc towards Wetaskiwin.