Milton Lake Lodge is situated on the north shore of Milton Lake, 40 miles south of the North West Territories border, in far north-eastern Saskatchewan.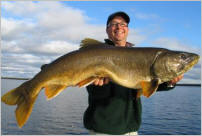 Milton Lake is home to four fish species known as the Grand Slam: walleye, northern pike, arctic grayling and lake trout. Fish for all these species within minutes of the lodge. Trophy fish can be caught from the rocky shore right in front of the lodge.

Those with a greater sense for adventure will enjoy the float plane ride to a private lake, breathtaking scenery and of course some extraordinary fishing! All of our lakes and outfitted with new Lund boats and Yamaha 4-stroke outboards. Adventure Canoeing Trips are also available.

At Milton Lake Lodge, you will be surrounded by luxury. Our brand new facilities offer a level of comfort that will be recognized as amazing anywhere, let alone in this remote part of northern Canada. Because we accommodate only 16 guests at a time, only a select few get here each year to fish and enjoy the facilities and amenities we offer.