Located only a few country kilometers west of Lafleche, Saskatchewan, on historic Highway 13, McMaster Manor is a rare find nestled high on the Wood River.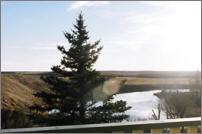 From its beautifully landscaped location, guests have the perfect setting for a "living skies" sunset or a canoe ride down the river. Watch for deer from the front verandah and enjoy the beautifully landscaped grounds surrounding the house. A small orchard of various fruits complements the unique prairie setting nestled in the midst of organic farmland. Visit the small island offshore by row boat. Be lulled by the native song birds nesting in the bushes.



McMaster Manor offers four comfortable guest rooms. A country breakfast is served each morning. We are open from April 1st to October 31st. Group reservations are available November through March.