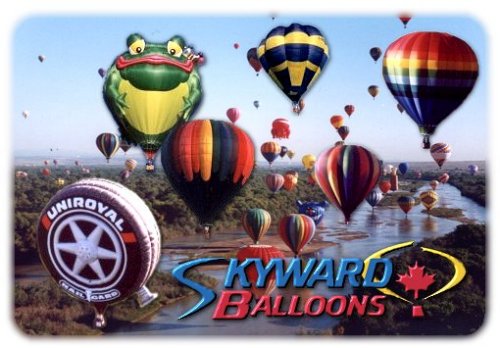 Skyward Balloons, Cambridge, Ontario offers Hot Air Balloon Rides in Kitchener - Waterloo, Ontario. Come fulfill your dreams with an experience of a lifetime!

Hot Air Balloon Rides begin when you meet your Pilot and Crew our launch site. The thrill and anticipation will grow as you watch the balloon rise and take shape. Once fully inflated and ready for take-off, the balloon will stand nearly 10 stories high! You will then wait for instruction from your pilot to climb into the basket and begin your incredible adventure.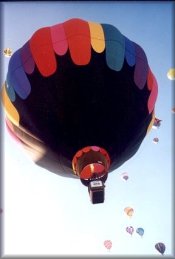 As you rise, ever so gently into the sky, you will have a bird's eye view of the Kitchener - Waterloo area. We will float above the cities at approximate heights of 500-1000 feet. You will then drift towards the beautiful countryside, where you will see things nobody else can. Look for wildlife, as the wind gently carries you over forests, ponds, and lakes. Wave to and talk with envious on-lookers down below.

After a breathtaking flight, which will last approximately 1 hour, we invite you to join us for a champagne toast, the oldest of ballooning traditions. Your pilot will present you with a personalized Flight Certificate to commemorate your Hot Air Balloon Adventure, and a Polaroid photo so that you will never forget the awesome experience you had.